Prime Minister Perry Christie has appointed Alma Adams as Bahamas Ambassador to the Republic of Cuba, resident in Havana; Eugene Newry as Bahamas Ambassador to the United Nations, New York; and Ed Bethel, as Bahamas High Commissioner to the United Kingdom, resident in London.
"Our foreign policy team is strengthened by these men and women who understand the need to be ambassadors for our country and also play a role in bringing new investment to our country," the Prime Minister said during a press conference at the Ministry of Foreign Affairs September 5, 2012.

"This is an experienced diplomatic team. I am confident that they will give yeoman's service to our country abroad. They are the country's generals on the front line. They are the face of our country to the world," the Prime Minister said.
The ambassadors were appointed in accordance with Article III of The Constitution of The Bahamas. The ambassadors, with the exception of Newry, are expected to be in their post by November 1, 2012.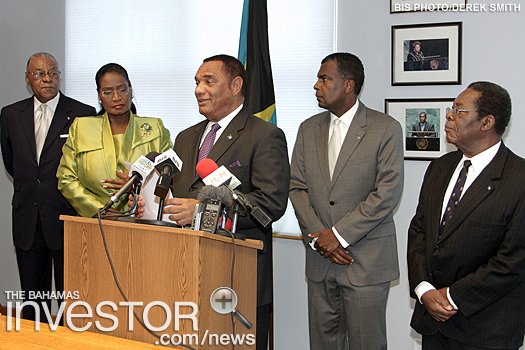 Prime Minister Christie introduces the new Ambassadors during a press conference at the Ministry of Foreign Affairs on Wednesday, September 5, 2012. Pictured from left: Ed Bethel, Bahamas High Commissioner to the United Kingdom; Alma Adams, Bahamas Ambassador to the Republic of Cuba; Prime Minister Christie; Fred Mitchell, Minister of Foreign Affairs and Immigration; and Eugene Newry, Bahamas Ambassador to the United Nations, New York. (BIS Photo/Derek Smith)