The Bahamas government has signed contracts for repairs to the dock and construction of public toilets in Clarence Town, Long Island.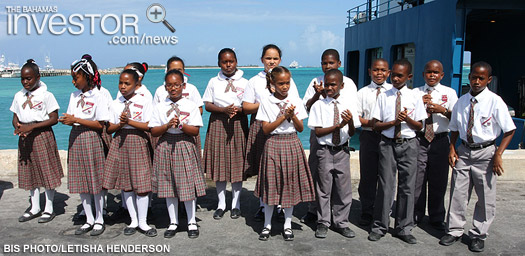 Students of Morrisville Primary School attended the contract signing ceremony in Clarence Town, Long Island. (BIS photo/Letisha Henderson)
Agriculture and Marine Resources Minister Lawrence Cartwright said the upgrades are much needed for the seaport.

The $59,340 contract for the dock includes repairs to the deck, concrete stairway and the wooden dock. The contract for $82,512 will provide toilet facilities.
Both contracts were awarded to Laurin Knowles and Sons Construction.
Public Works and Transport Minister Neko Grant headed a delegation to the island during a visit last weekend to sign the contracts.
He was joined by Education Minister Desmond Bannister; Minister of State for Social Development Loretta Butler-Turner; Permanent Secretary Colin Higgs; director John Canton and engineer Robert Mouzas.
A ceremony was held at the dockside in Clarence Town to mark the occasion. Witnessing the event was administrator Jordan Ritchie, chief councillor Ian Knowles and other local government representatives, residents and students of Morrisville Primary School.