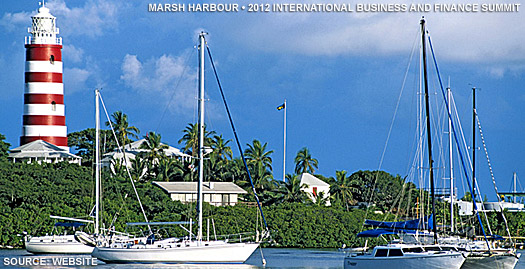 The Bahamas Financial Services Board (BFSB) is in the final stages of preparation for this year's International Business and Finance Summit (IBFS) scheduled to be held February 2-5 at the Abaco Beach Resort in Marsh Harbour, Abaco.

IBFS 2012 is being hosted under the broad theme "Pursuing Comparative Advantage," in recognition of the reality that individuals, institutions and jurisdictions must focus on key benchmarks and exploit their comparative advantages for success.
Industry stakeholders will gather over three days to examine current strategies and ways to advance comparative advantage.
Speakers at IBFS 2012 include: Bruce Zagaris, American Bar Association (US); Bruce Weatherill, Weatherill Consulting (UK); Catherine Chandler-Crichlow, Toronto Financial Services Alliance (Canada); Diego Pivoz, HSBC (Switzerland); Flavio Peppe, Ernst & Young (Brazil); Gina Pereira, Pereira Consulting (Canada); Ivan Sacks, Withers (US); Joe Field, Withers Asia; Nick Rucker, Berkeley Law Ltd (UK); Rebecca Leon, Morgan, Lewis & Bockius LLP (US); Robert Blower, Charles Russell LLP (UK); Robert Colvin, Colvin & Associate (US); Sebastian Dovey, Scorpio Partnership (UK); Steven Cantor, Cantor & Webb (US); Susan Klouman, Towers Watson (US); Thomas Ragan, Ragan & Freeman LLP (US); William Heuseler, ITAU Private Bank International (Brazil, US); and Rowena Bethel, formerly of the Ministry of Finance (Bahamas) and now an independent consultant.
Corporate and other sponsors of IBFS 2012 include the Association of International Banks & Trust Companies (AIBT), ATC Trustees (Bahamas) Ltd, Bahamasair, BORCO, COPA Airlines, Ernst & Young, Grand Bahama Port Authority Ltd, Klonaris & Co, Ministry of Tourism and Aviation, PricewaterhouseCoopers, RBC Wealth Management, Schooner Bay, Societe Generale Private Banking, and UBS Trustees (Bahamas) Ltd.