Governor General of the Commonwealth of The Bahamas, Sir Arthur Foulkes and Lady Foulkes made an official visit to the newly established Ministry of Grand Bahama on December 14.

Sir Arthur was in Grand Bahama for his annual visit to the Rand Memorial Hospital and accepted the invitation to visit the Grand Bahama Ministry, which is housed in the Harold DeGregory Complex on the Mall, Freeport.
Minister for Grand Bahama Michael Darville officially welcomed Sir Arthur to the ministry.
Darville told the Governor General that he accepts full responsibility, as Minister for Grand Bahama, for all matters outlined in his portfolio which include:
Improving relations with the Grand Bahama Port Authority;
Revitalisation and promotion of Grand Bahama as a tourism and industrial centre;
Extension of duty free concessions to East and West Grand Bahama;
Promotion of agricultural development in Grand Bahama;
Advancement of health and educational infrastructure in liaison with relevant ministries;
Promotion of employment and entrepreneurial opportunities in Grand Bahama;
Social Services for Grand Bahama;
Community relocation and rehabilitation of Lewis Yard and Pinder's Point; and
Environmental protection for Grand Bahama.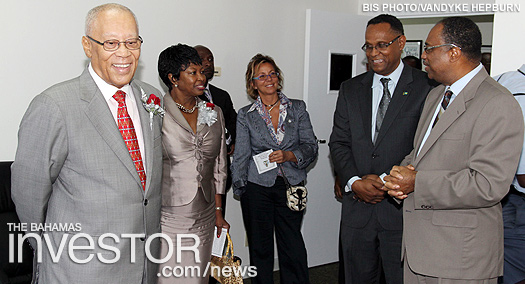 Sir Arthur; Lady Foulkes; Sarah St. George, deputy chairperson of the Grand Bahama Port Authority; Michael Darville, Minister for Grand Bahama; and Melvin Seymour, permanent secretary in the Ministry for Grand Bahama. (BIS Photos/Vandyke Hepburn)