Prince Harry will be visiting The Bahamas next month, as he visits the commonwealth country to celebrate the Queen's Royal Jubilee.
The prince is touring the region to commemorate his grandmother's 50-year reign.

He will spend March 3-5 in The Bahamas.

The government has organized a full schedule of events to keep the prince busy, including a visit to the Exuma Cays Land and Sea Park (pictured). His grandfather, Prince Philip, is a patron of the Bahamas National Trust, which runs the park.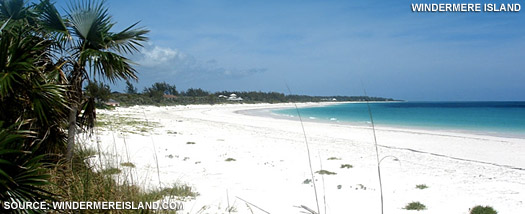 Following the park visit, Prince Harry will spend a few hours on Windermere Island (pictured), where his parents honeymooned in 1981. Announcing the plans, Secretary to the Cabinet Anita Bernard said the schedule was a result of collaboration between the Bahamas government and Prince Harry's aides.
"It is really a joint effort," she said. "It was his express wish to see Windermere, as that is where his parents honeymooned."
"Hopefully it will be a typical Bahamian sunny day and he will see The Bahamas at its best."
Prince Harry will also be asked to open the Queen's Jubilee Exhibition in Rawson Square on March 4 and, the following day, will observe a youth rally held at the new Thomas A Robinson National Stadium.
Jewel Dean from the Ministry of Education explained: "It is going to be a national youth rally. Our young people are coming in droves from all throughout the country. We have a spectacular show that is just raring to go."
The show will include a Junkanoo rush out.
Before leaving, the prince will attend a ceremony at the Royal Bahamas Defence Force base and lay a wreath at the facility's memorial.
As Queen Elizabeth's representative, Prince Harry will also be participating in official visits to Jamaica and Belize next month.
cmorris@dupuch.com