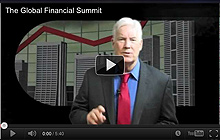 Expert economists from all over the world will converge on Atlantis Paradise Island today, as the resort plays host to the Global Financial Summit 2012.
The event, which runs from Wednesday to Saturday this week, is expected to attract hundreds of top executives, business leaders and investors.
"We'll gather and discuss proven free market solutions to the problems of inflation, economic crisis, unemployment, recession and depression," says summit organizer and founder Mark Skousen.

Steve Moore, a leading member of The Wall Street Journal's editorial board and CNN economist, will be the keynote speaker and is expected to address delegates on the topic: "Crisis in Washington: What's really going on inside the Beltway."
Additional speakers at the conference, which is themed "Market Solutions for the World's Problems," include former chief economist for the US Chamber of Commerce Richard Rahn, Dr Joel Stern, chief executive officer of Stern, Stewart & Co and Fox Business commentator Lenore Hawkins.
The conference will feature workshops, speeches and panel discussions, for a complete agenda visit http://freedomfest.com/gfs2012/ and, for further details view the event's promotional video: