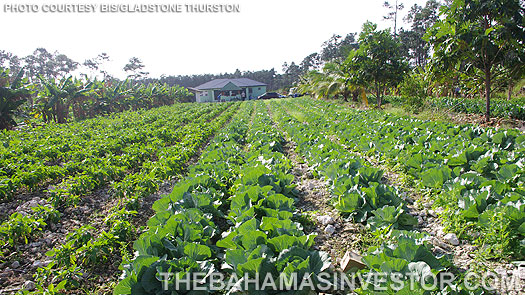 Lush winter vegetables grow in North Andros. (BIS Photo/Gladstone Thurston)
The Bahamas Ministry of Agriculture and Marine Resources officially launched the Agri-Business Expo 2012 on Thursday.
The annual event, now in its sixth year, has been a "dedicated means of showcasing the product of the hard work, skill and expertise of the farmers, fishers and processors in our agriculture and fisheries sector," said Minister of Agriculture and Marine Resources Lawrence Cartwright speaking at the launch in Nassau.

Every other year, various Family Islands participate. This year will see 12 islands take part, up from 10 in 2010.
"As we build on our successes, this increased participation of islands and districts reflects a wider and truer representation of our island-nation," said Cartwright.
This year, the Expo's theme is "Progressing Towards Food Security."
Minister Cartwright stressed that his policies and programmes have long promoted this theme, citing such initiatives as the creation of Marine Protected Areas (MPAs), continued research into food sources such as root crops and lionfish, and the establishment of the Backyard Garden Programme, which aims to encourage Bahamians to grow their own produce.
Assistant Director of Agriculture Charmaine Price emphasized the importance of this year's Expo theme, noting that The Bahamas "imports over $500 million in food annually."
Developing and increasing local food sources, which is the primary aim of the Agri-Business Expo, will help reduce this dependency, she added.
hcutting@dupuch.com