Source:
Date:
Updated:

The Tribune
Friday, December 16, 2011
Friday, December 16, 2011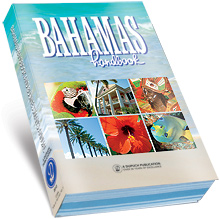 Dec. 15/11 – THE Bahamas Handbook 2012 is now in stores, offering readers fascinating and little known facts about the Bahamas, its people, culture, economy and history.
In its 626 pages, the handbook is filled with insightful features on the Bahamas, beautiful full colour photographs and rich illustrations that bring the stories to life.
The handbook reveals previously unknown details about the second world war, the general strike of 1958, and the first ever distribution of weapons in The Bahamas.
Readers can discover how German and Italian U-boats stalked and torpedoed Allied freighters in Bahamian waters during the second world war, trying to prevent them from carrying war materials to Britain, and how islanders of high and low station helped to rescue and care for the survivors.
Relive the anger and resentment that led to the General Strike of 1958 and how the Bahamian police force was issued with weapons for the first time in history – as seen through the eyes of a gazetted police officer of the day.

Also in this year's publication, readers will find that despite decades of heat, humidity and hurricanes on San Salvador, a plantation owner's meticulous diary somehow survived to the present day, giving handbook readers an unvarnished picture of the high emotions that prevailed among slaves in the earlier 19th century, on the eve of emancipation.
Ever wonder how Wallace Groves was able to build an entire industrial city in the pine and barrens of Grand Bahama in less than 10 years? A handbook story clears up some of the mystery and explores the techniques he used to build Freeport, as recalled by his contemporaries and closest associates.
For more information, promotional copies or to send press releases to the publisher, please contact the Editorial Department at 242-323-5665 or email info@ dupuch.com.
This is an excerpt from The Tribune as it appeared on December 16, 2011. For updates or to read the current version of this post in its entirety, please click here.

Continue reading this post >