The Bahamas is set to make its first major foray into sports tourism with the arrival of Bahamas Speed Week, which kicks off next week in New Providence.
Praising the organizers and sponsors of the event, which will see some 40 iconic cars take part in a series of races, Minister for Tourism and Aviation Vincent Vanderpool-Wallace said its success would boost the Bahamas' brand "immensely" and act as a model for future projects in the sports tourism niche.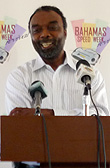 "We focus on tourism as an economic development tool and it makes all the sense in the world for us to look at this in terms of long-term development. Brand is very important. We want to build our brand and one of the easiest ways to build it is to add value and add to what we have to offer," he said at a press event today.
"This model is precisely what we want to see for all development in the area of sports tourism."
The Minister also spoke of his hope that Speed Week would once again become an annual event. "We intend to make it bigger and better. We think this is the start of something extraordinary."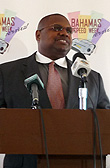 Minister for Youth, Sports and Culture Charles Maynard echoed this, saying: "This is a special event. We look forward to its annual continuation."
"I am proud as a Bahamian and as the Minister responsible for sports [to be involved] because this used to be a signature event in our country over 40 years ago. This will bring it alive again for a new generation of Bahamians," he added.
Bahamas Speed Week begins November 30 and runs until December 4. Over the five days there will be a number of events including a gala ball and charity auction, Fort Charlotte hill climb and sprints around the 1.2 mile circuit in Arawak Cay. Those taking part include racing veteran Sir Stirling Moss, Wal-Mart chief executive officer Rob Walton and British developer John Lewis.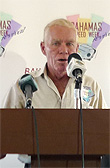 The original Nassau Speed Week took place from 1954 to 1966 and, according to Speed Week Revival president Jimmie Lowe, bringing the event back has involved over two years of careful planning.
"It has been a rollercoaster ride," he said. "At the end of the day, I think just seeing the cars back in Nassau will be worth every effort we put into it."
Speed Week sponsors include Pictet Bank, The Ministry of Tourism and Aviation, EFG Bank International and The Ministry of Youth, Sports and Culture.
Tickets for the events range from $20 to $400. For further information visit www.bahamasspeedweekrevival.com
cboal@dupuch.com