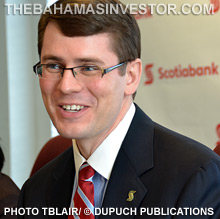 Scotiabank (Bahamas) Ltd will be opening a new $1-million branch next year, its new managing director, Canadian Kevin Teslyk (pictured), announced Monday.
The new Carmichael location will be the bank's 23rd branch nation-wide. It is expected to have a staff complement of 10. Presently, the financial institution employs 700-plus workers across The Bahamas and has 57 ATMs.
"Carmichael is one of the fastest growing, if not the fastest growing residential community in The Bahamas,"?said Teslyk.

The new MD is optimistic that the site preparation and ground breaking can begin this month. Construction is expected to last six to seven months, wrapping up in June/July 2012.
Officials hope to officially open the branch in the fourth quarter of next year.
"So, we are expanding. We are clearly reinvesting," said Teslyk in his first official meeting with members of the local media. "As all businesses have to do, you have to evaluate your different opportunities. Carmichael was a larger, immediate business priority for our bank."
At some point in the future the bank hopes to enhance its delivery capability to customers by branching out in the eastern district of New Providence and perhaps expand operations in Freeport, Grand Bahama. The latter is Scotia's largest single branch in The Bahamas.
Teslyk admits that it has been difficult over the past three years amid the global economic turmoil.
"Difficult times bring their own opportunities and we have a number of clients that are looking to leverage those opportunities to expand and to grow when you might least expect it," the managing director advised.
In 2012, one of the bank's key priorities will be to continue to work very closely with all of customers across all business lines:?retail, small business, corporate, commercial and wealth management.
Most of the bank's clients, however, are interested in learning how to enhance and "right size" their operations with a view to becoming more efficient and effective so that they are well positioned to participate in rapid growth once the global economy recovers.
"Scotiabank is proud of the fact that very early on in the crisis we were very proactive in working with our customers across all business lines giving them solutions and suggestions for how they could manage their affairs," said Teslyk. "We view this as a partnership. We collectively, mutually benefit during the good times and we mutually struggle during the difficult times and that is the way good partnerships should be."
Teslyk assumed his current position as managing director of Scotiabank (Bahamas) in June 2011, taking over from Bahamian Barry Malcolm, who retired from his post of three years on May 31.
tblair@dupuch.com