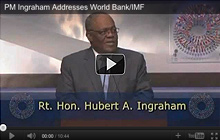 Prime Minister Hubert Ingraham, in his capacity as chairman of the World Bank group and the International Monetary Fund (IMF), addressed the opening of the 2011 World Bank/IMF Annual Meetings in Washington, DC, last week.
The Bahamian Prime Minister said that the current economic environment presented significant challenges for the international community.

"The challenge is to find the appropriate pace of fiscal adjustment for each country," he said in his address. "Faith in the global financial system needs to be restored."
On a more regional level, the Prime Minister said that The Bahamas and the wider Caribbean were particularly vulnerable to economic fluctuations, given their reliance on the prosperity of their largest and most prosperous neighbour.
"The Bahamas is a small open economy, heavily dependent on tourism. The fortunes of our economy are very closely tied with those of the US."
The chairman also called on fellow small island developing states (SIDS) to proactively pursue reform and advancement.
"To attract more foreign direct investment, we need to improve the business environment and aggressively exploit more diversified business opportunities.
"The proof of our efforts will be seen in the improvements in the lives of our people," he concluded.
Watch the video of the Prime Minister's address below.