Minister of State for the Environment Phenton Neymour has said that the support of the Inter-American Development Bank (IDB) and the Global Environment Fund (GEF) has played a pivotal role in providing funding for the National Energy Policy.
The Minister made the remarks at a conference held last week in Nassau.
With the theme "Implementing Sustainable Energy Projects in The Bahamas: Solar Water Heater and Solar Photovoltaic Systems Pilot Programme," the three organizations have been successful in starting a CFL (compact fluorescent lamp) distribution campaign to initiate awareness of the weight that residential energy efficiency holds in reducing the national energy bill.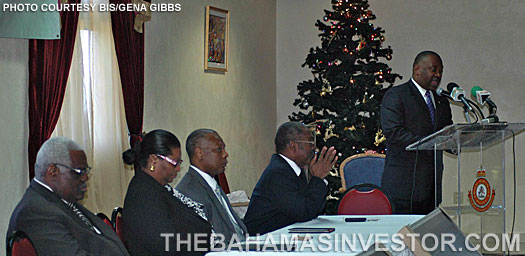 Minister of State for the Environment Phenton Neymour addresses the conference. (BIS Photo/Gena Gibbs)
"Under these IDB funded pilot projects the government has seized the opportunities to accomplish the following recommendations of the National Energy Policy," said Neymour.
"The first one is the phase out of incandescent light bulbs and their replacement with reduced mercury compact fluorescent light bulbs."
"The second is the increased integration of renewable energy technologies in small communities and average to low-income households. And, the third is to reduce the dependence of imported fuels by promoting the use of solar water heaters, implementing financial initiatives and duty reductions, and to increase public awareness and education on renewable energy potential and its usage, and also initiate the development of projects for Ocean Thermal Energy Conversion for district cooling and for electricity generation."
Neymour reminded the audience that the National Energy Policy is 40 per cent about organizing how energy is used in the home, and 60 per cent of how it is used in the workplace.
"In this age of technology, it is important to strive to be at the cutting edge and to take full advantage of the benefits of technological advancement."
"However, it is equally important to take advantage of old-age wisdom and best practices, such as the energy efficient design of buildings, the habit of being energy conscious, and practice of reducing energy wastage."