Bimini Bay Resort and Marina is set to undergo a re-branding, as it welcomes new management, bringing a boost to the island's tourism.

Bimini Bay Resort, on North Bimini, is jointly owned by Rav Bahamas and the Capo Group, which have handed over management of the 350-unit vacation complex to RockResorts, a subsidiary of Vail Resorts Inc, which owns properties worldwide. RockResorts will manage the vacation home and marina facility through its property group, Legendary Lodging.
The resort consists of 350 vacation homes, the largest deepwater marina in The Bahamas, restaurants and a shopping village. RockResorts is expected to invest heavily in the site–developing a new hotel, spa and beach club.
At the official signing ceremony held last month, Rav Bahamas president Raphael Reyes said: "We are revitalizing what a Family Island represents to this economy."
Bimini Bay will be officially rebranded as a RockResort once the hotel, beach club and spa are completed. The beach club and spa are expected to open later this year, with the 80- to 100-room boutique hotel opening its doors in summer 2014.
Mark Jeffrey, area vice president of the Coastal Collection for RockResorts, said: "Bimini is becoming known as one of the best boating/yachting hubs with the largest deepwater marina in The Bahamas. We are committed to continuing to position Bimini as a 'must visit' destination and to promoting the resort's programmes and amenities, while looking for opportunities to enhance the guest experience in the future."
The new management team are also hoping to improve links to the destination with a fast ferry service to cover the 48-mile trip to Florida. In addition, they intend to develop a casino on the site that will be managed by a third party.
"We feel as if Bimini Bay is a perfect fit with our portfolio of luxury properties and will help to strengthen our Coastal Collection, as well as the entire RockResorts brand," said Jeffrey. "We believe its a new and exciting chapter for Bimini Bay and RockResorts and look forward to bringing our 25-plus years of property management experience, as well as our environmental programmes and values, to the property and to the region."
Several new environmental measures will be introduced at the resort following the change of management. These include eliminating all plastic water bottles, a voluntary guest donation programme, which supports local causes, and a sustainable cuisine campaign.
Pictured left to right are: Bill Lee – general manager of Bimini Bay Resort & Marina, Mark Jeffrey – vice president of the Coastal Collection for RockResorts and Vail Resorts Hospitality, Alex Capo – president of the Capo Group (owners of Bahamas RAV Ltd – the owners of Bimini Bay Resort & Marina), Gerado Capo – owner of the Capo Group, Leslie Bethel – owner and president of NOTARC Management Group (the group that brokered the management agreement between Bimini Bay Resort & Marina and the ownership group – Bahamas RAV Ltd), Rafael Reyes – president of Bahamas RAV Ltd.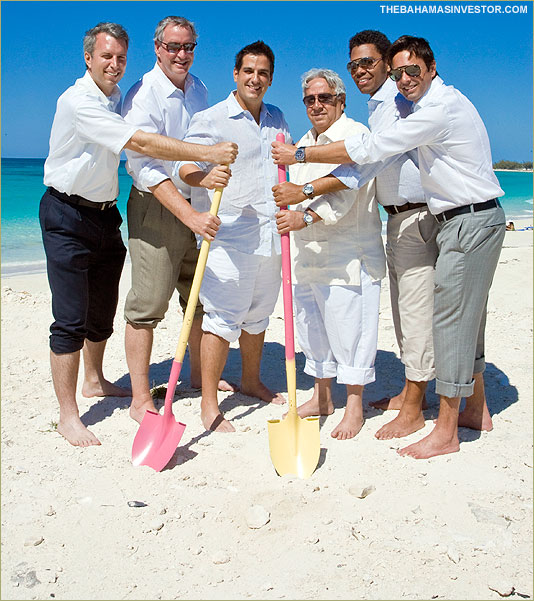 cboal@dupuch.com