November is Caribbean Tourism Month and members of The Bahamas' tourist industry has organized a series of events designed to highlight the importance of the sector and bring more tourism dollars to the islands.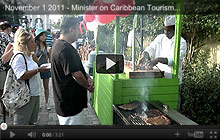 Tourism is the largest industry in The Bahamas and is responsible for around 60 per cent of the country's gross domestic product (GDP). In 2010, the country welcomed just over 5 million visitors.
Activities this month will include competitions and promotions; talks in schools and churches about the importance of tourism and events featuring industry leaders.

The theme for the month is '"One sea, one voice, one Caribbean" and the group behind the campaign, the Caribbean Tourism Organization, is hoping it will boost tourism revenue to the islands through enhanced promotion of its appeal as a holiday destination.
"The Caribbean is the most tourism dependent region in the world, so increasing the awareness among the citizens of the Caribbean of how important tourism is to their economic livelihood is very important," said Minister of Tourism and Aviation Vincent Vanderpool-Wallace.
"Tourism offers a great opportunity for us to begin to add more jobs to this region, even while we are going through this economic stagnation," he continued.