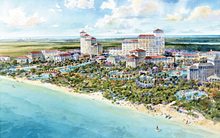 Baha Mar marked its first, official milestone today with the opening and handover of a 1.25 mile realignment of West Bay Street.
The new road diverts traffic south of the Baha Mar resort around the 1,000 acre, $3.5-million development.  
An existing portion of West Bay Street will now be conveyed to Baha Mar by the government for the construction of its 1,000 room casino hotel, 700 room convention hotel, 100,000 sq ft casino and 150,000 sq ft convention centre and related amenities. 

"This newly realigned portion of West Bay Street falls neatly within the greater New Providence roadwork development programme now progressing to accommodate the most massive urbanization and community expansion that has ever occurred on the island," said Prime Minister Hubert Ingraham (above, left) at the opening and handover ceremony on Friday.
The Heads of Agreement concluded between the government of The Bahamas and Baha Mar requires the government to pay 50 per cent of the total costs of these infrastructural works inclusive of roads and utilities in the resort's vicinity. 
"I want to thank the government and people of The Bahamas, and all other stakeholders, who have been tenacious in holding fast to the vision that Baha Mar will rise from these beautiful shores,"?said Sarkis Izmirlian (above, right), chairman and chief executive officer of Baha Mar Ltd. "I am proud to say that their faith is being rewarded, step by glorious step."
For Izmirlian the road's completion establishes "the footprint and resurgence of The Bahamian Riviera, and paves the way for a project that will profoundly impact many, many lives in our community and elevate the bar for tourism in the Caribbean and in this hemisphere."
It took 600 workers nine months to complete the realigned portion of West Bay Street, which includes five round-a-bouts, a well lit footpath and lakefront boardwalks.
"The finished product conveys, I believe, a sense of place, because of the incorporation of indigenous resources, such as conch shells and native stone into the landscape design," said the Prime Minister.
When re-routing West Bay Street, Baha Mar preserved surrounding woodland and included a walking trail, benches, lighting and other infrastructure, turning the area into a nature reserve for public enjoyment.
According to Baha Mar's president Don Robinson, the new corridor is special in many ways.
"Its construction represents a marvel of skill collaboration, ingenuity, producing the kind of excellence that will become the signature and the first impression of the new Bahamian Riviera,"?he said.
Robinson believes the road is symbolic of Baha Mar's journey and "the ability to venture beyond the status quo and to reach for things and developments that lie beyond the imagination."

Once completed in 2014, the Baha Mar project is expected to create close to 12,000 new jobs and pump more than $305 million in annual wages into the Bahamian economy.
tblair@dupuch.com