Three employees at the Nassau Airport Development Co (NAD) walked away with accolades for their hard work and dedication as the company wraps up a busy year at the Lynden Pindling International Airport (LPIA).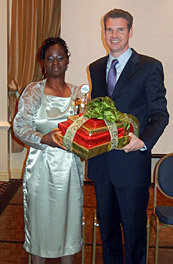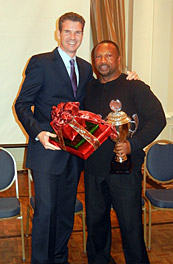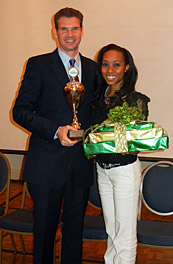 The three employees for their outstanding contribution over the last year (left to right): NAD Employee of the Year 2011 – Gina Johnson, NAD Manager of the Year 2011 – Peter Tynes, and NAD Employee of the Year 2011 – Deandra Pinder.

At the annual staff Christmas party, held on Tuesday this week, Stewart Steeves, NAD president and chief executive officer, named Peter Tynes, manager of Apron Drive Bridges (ADB) & Baggage Handling Systems (BHS) as Manager of the Year.
He also awarded Employee of the Year to two dedicated workers: Gina Johnson, a Level 4 technician in the maintenance department; and Deandra Pinder, accounts officer in the finance department.
During the construction and opening of the new US Departures Terminal, Peter Tynes was instrumental in ensuring that major systems, such as the $10.8-million baggage system, operated when the terminal opened in March.
Gina Johnson, NAD's only female electrician, recently received her 3-Phase electrical license from the Bahamas Ministry of Works. Earlier this year, Gina received the award for NAD's Key Employee of the Quarter.
Nominators describe her as "a very decisive and assertive individual who is quick to take initiative and well known for going above and beyond the call of duty. She reports to work early and leaves late. Gina is an individual that is always willing to assist in any area in which she's needed."
Deandra Pinder started her career at NAD as a summer student in 2008. She became a permanent employee in the finance department in May 2010. As accounts officer, her major responsibilities include generating aeronautical billings, working with aeronautical clients to collect data for billing and generating reports to be sent out for local and international airline billing and collection.
"I was shocked," she says of being awarded the accolade. "I am very thankful for everyone that supported me and I will continue to do my best."
According to Steeves, this year's awardees should feel particularly proud considering the momentous year for the airport management company, including the opening of Stage One of the LPIA expansion project.
"This past year, we've put our entire team to the test. We've asked a lot of their time, energy and efforts in order to accomplish a major goal. I would like to commend our entire staff for showing their commitment and dedication to the success of NAD and LPIA."
In 2012, NAD will focus on the completion of Stage Two—a new International Arrivals Terminal set to open in the Fall.