Source:
Date:
Updated:

PRNewswire
Thursday, January 10, 2013
Thursday, January 10, 2013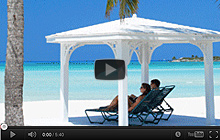 The holiday season has come to a close, which means that wedding planning season is just heating up. After saying "yes" in December, the newly betrothed are starting to consider options for their big day, and according to a recent survey commissioned by the Ministry of Tourism*, a destination wedding should top the list.

With 16 island destinations to choose from and endless array of styles and options, having a destination wedding in The Islands Of The Bahamas may seem overwhelming, but it is actually a breeze, thanks to a number of resources that take the guesswork out of planning. Perhaps most helpful is The Bahamas' very own Director of Romance, Freda Madrisotti, who along with her team are readily available to answer any question about getting married in The Bahamas and simplify the process. Professional wedding consultants can be found through the Bahamas Bridal Association, and couples considering The Bahamas for their wedding can now watch a new video (below) that follows real-life newlyweds Elizabeth and John as they planned their dream wedding.
What's more, on Jan. 10, 2013 engaged couples with questions about planning a destination wedding or honeymoon in The Bahamas can join the weekly travel Twitter chat, Traveler's Night In (#TNI) for a discussion on weddings, honeymoons and romance. From 3:30 – 5:00 p.m. (EST) experts will be providing tips, tricks and must-sees in The Bahamas and will be answering consumer questions live and in 140 characters or less. Participants should simply use hashtag #TNI and tag @VisitTheBahamas.
According to the survey, five reasons why couples should consider a destination wedding, particularly in The Bahamas, include:
Location, Location, Location: Saying "I do" in a locale away from home does not impact attendance as some may fear, in fact, 78% of respondents will happily accept an invitation to a destination wedding, and 45% prefer to attend one in a tropical beach setting.
Going the Distance: Invite them and they will come. More than half of respondents (53%) are willing to travel up to five hours to get to a destination wedding, while a quarter will spend $1,000 or more to attend. Just be sure to get invites out early. 73% of those polled require between one and three months advance notice.
Picture Perfect: Not only will the setting make for beautiful wedding photos that will be cherished for a lifetime, but the guests will look better too. A quarter of Americans say they are more likely to go on a diet before attending a destination wedding than a traditional wedding.
Getting to Know You: Couples can relish the fact that all of their loved ones are in the same place at the same time… and are enjoying each other's company. 68% of respondents say they are more inclined to be more outgoing and get to know other guests at a destination wedding.
Eat, Drink, and…: Don't forget to invite plenty of single friends. Nearly a quarter (21%) of respondents fess up to partying harder at a destination wedding and (coincidentally?) the same percentage say they are more likely to get friendly with a bridesmaid, groomsman or other guest than they are at a traditional wedding.
The Islands Of The Bahamas have a place in the sun for everyone from Nassau and Paradise Island to Grand Bahama to The Abaco Islands, The Exuma Islands, Harbour Island, Long Island and others. Each island has its own personality and attractions for a variety of vacation styles with some of the world's best scuba diving, fishing, sailing, boating, as well as, shopping and dining. The destination offers an easily accessible tropical getaway and provides convenience for travelers with preclearance through U.S. customs and immigration, and the Bahamian dollar at par with the U.S. dollar. Do everything or do nothing, just remember It's Better in The Bahamas. For more information on travel packages, activities and accommodations, call 1-800-Bahamas or visit www.Bahamas.com. Look for The Bahamas on the web on Facebook, Twitter and YouTube. To purchase one-of-a-kind items from The Bahamas, visit www.eshopbahamas.com.
*Survey Methodology: This survey was conducted over the telephone between January 12th and January 15th 2012 among a national probability sample of 1,014 adults ages 18 years of age and older who live in private households in the continental United States.