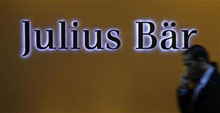 The US is facing "a tough economic reality," but there are still plenty of opportunities for investors to profit in the global market, according to a leading analyst.
Speaking at the Julius Baer Investment Conference held at Atlantis Paradise Island yesterday, president and co-director of research at Manning & Napier Associates Jeffrey Coons warned attendees that there would be slow growth and more volatility in the global markets for some time, but advised investors to take a long-term approach.

"We need to keep in mind what is going on in the macro-economic environment–the dynamics of industry and the fundamentals of companies, what drives the economy over time."
"We are in an environment where there are opportunities, but they are in buying companies that are able to grow their market share on a global basis."
"Look for multi-national companies selling into the developing world," he continued. "The opportunities are still sitting there. This is a great time to reposition your portfolio to focus on growth and global opportunities."
Coons allayed fears of a recession in the US, saying that the situation is not as severe as many predict. "There is a risk of a US recession, but risk has two components: likelihood and impact. Today there is a risk of a recession in the US, but if we tip into a recession it will be like falling off a curb: it will hurt, but it is not likely to kill you. It is not going to feel any worse than today feels–[economic] activity is low enough that a recession is not going to correct any excesses."
The conference, which was themed "Succeed in a Changing World–Where will we Find Growth?", also featured Julius Baer's chief economist Janwillem Acket and emerging market equity strategist Stefan Hofer.
cboal@dupuch.com