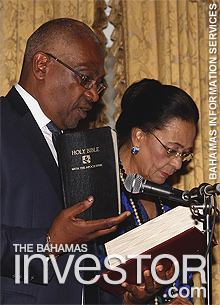 Pictured: Dr Hubert Minnis is sworn in as Prime Minister by Governor General Dame Marguerite Pindling, May 11, 2017 at Government House. (BIS Photos/Peter Ramsay/Letisha Henderson)
Prime Minister of the Commonwealth of The Bahamas Dr Hubert Minnis was sworn in May 11, 2017, saying that the election result represented "a new day" for country.
"Today also represents a renewal and reaffirmation of our democratic heritage," he said, during his Swearing-In Ceremony at Government House. "Exercising a cherished right that is still not universal, the Bahamian people freely elected a new government."
"We will honour this mandate for change."
Prime Minister Minnis thanked Governor General Dame Marguerite Pindling for "most graciously" appointing him as the fourth Prime Minister of an independent Bahamas.

Prime Minister Minnis said that although The Bahamas is a small country, its democracy is rightly the envy of many countries throughout the world that "mark the manner of our bearing."
"Yesterday's general election was peaceful and free from violence," he pointed out. "With civility and nobility, Bahamians from all walks of life joined hands and hearts to forge a new direction for our country."
"Now we are witnessing another orderly transfer of power."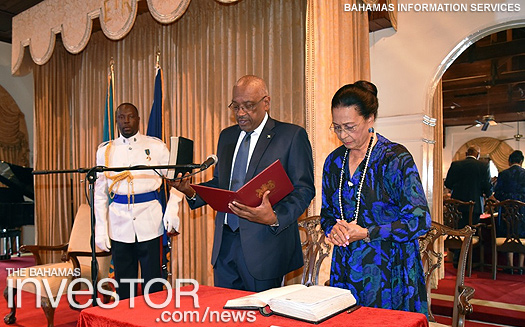 Prime Minister Minnis said that, with tremendous gratitude, he again thanked the Bahamian people for reposing their trust in his party.
He pledged that his Government would honour that trust with an unwavering commitment to good governance, the rule of law, transparency and accountability.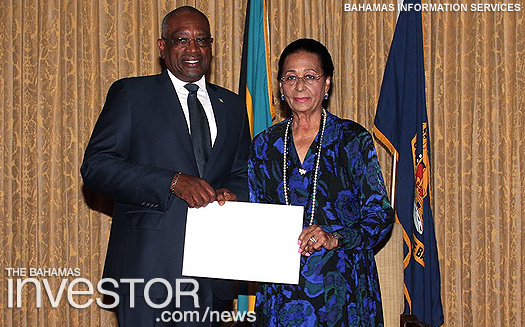 "We will respect the Constitution; and we will abide by the longstanding and tested conventions of our parliamentary democracy," he said.
"Ours is an extraordinary system of government," Minnis said. "I will honour the spirit and traditions of our democratic heritage."