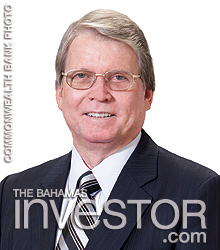 Pictured: Commonwealth Bank executive chairman William Sands Jr. (Commonwealth Bank Photo)
Crediting what it called "effective management" of delinquent loan accounts that slashed loan loss provisions nearly in half, Commonwealth Bank today reported it closed the fiscal year ending December 31 as the third best year in its 53-year history.
"The improvement in total profit is primarily attributable to the focused and effective management of the bank's delinquency management resources, which allowed for a $19 million or 44 per cent decline in loan impairment expenses in 2013 compared to 2012," said executive chairman William Sands Jr.
According to the bank's unaudited financial results, total profits stood at $51 million, with the 6,000-plus shareholders receiving dividends totaling $0.30 per share compared to $0.29 per share in 2012.

Year over year, there was a 42 per cent increase in profit, some $15 million higher than the $36 million in total profit reported in 2012. Total assets remained virtually unchanged at $1.43 billion.
Meanwhile, return on equity stood at 23.5 per cent with shareholders earning $0.47 per share, while return on assets was 3.16 per cent. All of these figures compare favourably with the prior year when return on equity was almost 30 per cent less at 16.5 per cent, return on assets was 2.06 per cent and earnings per share were $0.31.
"Our good performance comes from the financial strength and consistent application of the bank's business model that is focused on personal banking for Bahamians, and has been in place for more than 50 years," said Sands.
That focus on personal banking services combined with conservative banking practices produced regulatory capital of 26.3 per cent, up from 24.8 per cent last year and well above The Central Bank of The Bahamas' requirement of 17 per cent. The bank's liquidity ratio was 32 per cent, also well above the required 20 per cent.
Importantly for long-term predictions of security the bank's allowance for non-performing loans was at 124.5 per cent of total non-performing loans, compared to the industry average coverage of 45.8 per cent. The bank also produced an efficiency ratio of 45.66 per cent reflecting its ability to "accomplish more with less," according to Sands.
Commonwealth Bank operates 11 branches in New Providence, Grand Bahama and Abaco and plans to re-open its expanded Oakes Field branch before the end of February.