Source:
Date:
Updated:

Angel MedFlight
Wednesday, February 12, 2014
Wednesday, February 12, 2014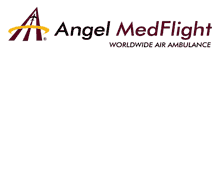 SCOTTSDALE, Ariz., Feb. 12, 2014 /PRNewswire/ — At Angel MedFlight Worldwide Air Ambulance, it's all about transporting patients safely and compassionately to the care they need, anywhere in the world. Angel MedFlight's fleet of Learjets flew a staggering 870,000 statute miles in 2013; nearly double the amount of miles from the previous year. The medical flight crews transported seriously ill or injured patients in or out of all 50 states in the United States and 30 countries worldwide. The longest flight on record for the year was from Texas to Nigeria – a total of 8,294 statute miles.

"Our Flight Coordinators handle all the logistical details of scheduling the medical transport for both families and case managers, allowing them to focus on their loved one or patient," stated Stacey Barnard, Chief Flight Coordinator. "Our One Touch Promise™ has earned us the global trust of those in need of, or coordinating an air ambulance transport."
With a sophisticated fleet of jets including the Learjet 60, Angel MedFlight provides a global reach to patients for urgent medical transport to and from international locations in almost every part of the world. The company operates and maintains its own fleet of medically-configured jets because of their unmatchable range and speed.
In 2013 alone, the air ambulance service transported patients to and from the farthest reaches of the globe, including South Korea, Nigeria, Lebanon, Turkey, China, Saudi Arabia, England, Turks & Caicos, Mexico, Bahamas, Jamaica, Barbados, USVI,Aruba, St. Martin, Canada, Dominican Republic, Costa Rica, Honduras, Panama, Paraguay, Peru, Argentina, Nicaragua,Ireland, Germany, Spain, France, and The Netherlands.
It also was an award-winning year for Angel MedFlight. AR/GUS International awarded Angel MedFlight Worldwide Air Ambulance with its highest honor, a prestigious Platinum Rating. Only the safest, most trustworthy charter operators and aviation companies receive this elite distinction.
"It was definitely a year of distinction for us – from doubling our transport miles to winning community awards and growing our employee base," commented Jeremy T. Freer, CEO and President. "Our growth is a testimony not only to our unique patient advocacy model but the passion Angel MedFlight's employees put into the work they do every day."
To schedule an interview on this topic, contact Chandra Stewart at (480) 634-8017 or cstewart@angelmedflight.com.
About Angel MedFlight Worldwide Air Ambulance
Angel MedFlight provides domestic and international air medical transportation services, commercial medical escorts, ground ambulance services and provides discretionary insurance benefit assistance. Angel MedFlight's One Touch Promise® assures every detail is handled and all resources are committed to guide the process from start to finish with a compassionate team of experts in the fields of medicine, aviation, insurance law and case management. www.angelmedflight.com