Source:
Date:
Updated:

PRNewswire
Friday, May 17, 2013
Friday, May 17, 2013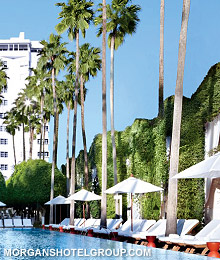 NEW YORK, MAY 17, 2013 /PRNewswire/ — Morgans Hotel Group Co. (NASDAQ: MHGC) ("MHG" or the "Company") today provided clarification regarding statements made in a filing submitted by The Yucaipa Companies ("Yucaipa"). The reference in the Yucaipa filing was to a letter received in November 2012 from a large international hotel company proposing to acquire all of the Company's outstanding common stock for $7.50 per share in cash. The letter said the proposal was based on publicly available information and would be subject to confirmatory due diligence. The Company's Board of Directors discussed this proposal and concluded that the price was not sufficiently attractive to commence formal negotiations in light of the views expressed to the Company's special transaction committee by its independent financial advisor regarding the prospects for growth in its stock price over the next several years if the Company is successful in securing additional management contracts through implementation of its strategic plan. The Company's Board responded that it was not interested at the proposed price, but that it might entertain a proposal at a significantly higher price. A similar proposal was received by the Company from the same party at the same price in February 2013 and the Company's position on the proposal was unchanged.

The Company said that the foregoing information will be included in its 2013 proxy statement when it is filed with the SEC.
About Morgans Hotel Group
Morgans Hotel Group Co. (NASDAQ: MHGC) is widely credited as the creator of the first "boutique" hotel and a continuing leader of the hotel industry's boutique sector. Morgans Hotel Group operates Delano in South Beach and Marrakech, Mondrian in Los Angeles, South Beach and New York, Hudson in New York, Morgans and Royalton in New York, Shore Club in South Beach, Clift in San Francisco, Ames in Boston and Sanderson and St Martins Lane in London. Morgans Hotel Group has ownership interests or owns several of these hotels. Morgans Hotel Group has other property transactions in various stages of completion, including Delano properties in Las Vegas, Nevada; Cesme, Turkey and Moscow, Russia; Mondrian properties in London, England; Istanbul, Turkey; Doha, Qatar and Baha Mar in Nassau, The Bahamas; and a Hudson in London, England. Morgans Hotel Group also owns a 90% controlling interest in The Light Group, a leading lifestyle food and beverage company. For more information please visit www.morganshotelgroup.com.