The redevelopment of the foreshore at Montagu – a joint project of the Bahamas government and Kerzner International – is nearing completion.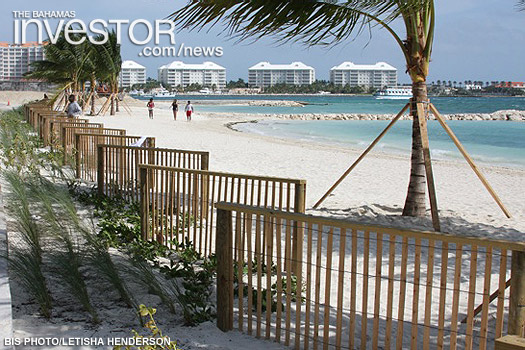 Sand fences and vegetation including coconut trees comprise some the new features of the refurbishment of the Montagu foreshore. (BIS Photo/Letisha Henderson)
During an inspection of the new beach last week Environment Minister Earl Deveaux said: "The government directed Kerzner's community outreach programme to Montagu to ensure that this particular project was completed, and we're extraordinarily pleased with the results."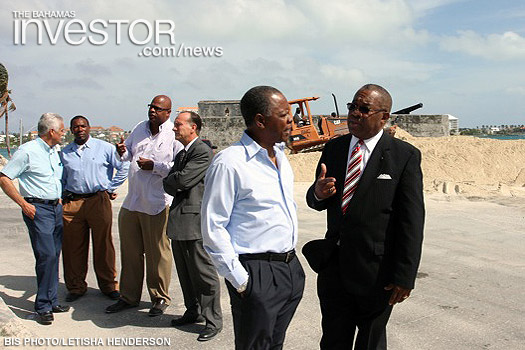 Environment Minister Earl Deveaux (left) and Public Works and Transport Minister Neko Grant, during a walkabout of the Montagu foreshore redevelopment. Pictured at back from left are: deputy director, George Hutcheson; quantity surveyor, Larry Bastian; Ed Fields of Kerzner International; and Permanent Secretary Colin Higgs. (BIS Photo/Letisha Henderson)
The redevelopment has involved planting vegetation on the beach to help stabilize the sand dunes, constructing groynes and importing tons of sand.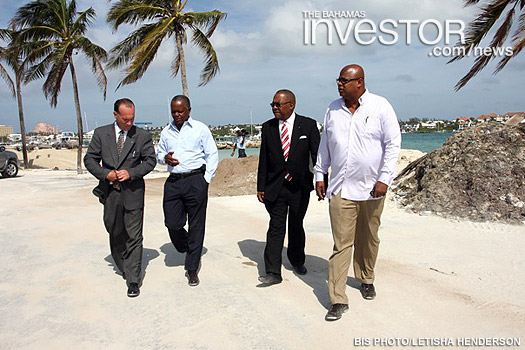 Viewing the changes at Montagu are from left: Colin Higgs, Permanent Secretary; Earl Deveaux, Minister of the Environment; Neko Grant, Minister of Public Works and Transport; and Ed Fields of Kerzner International. (BIS Photo/Letisha Henderson)
Plans are being put in place to pave the driving area and parking lot, and build two toilet blocks.
Picnic tables and benches will also be added.