About 500 people recently watched a documentary in the Atlantis Conference Center about a team of local and Living Oceans Foundation scientific divers examining Bahamian coral reefs suffering from coral bleaching as a result of climate change pollution and overfishing. The foundation was established by Prince Khaled bin Sultan of Saudi Arabia.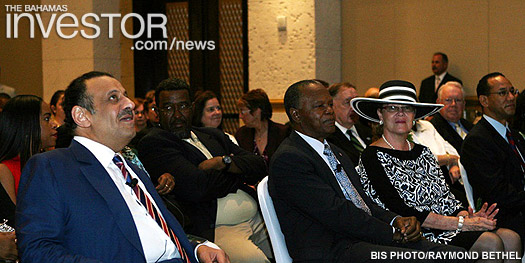 Prince Khaled joins an audience of 500 to watch the launch of Mission Bahamas, which documents the finding of BNT researchers. (BIS photo/Raymond Bethel)
Seven Bahamas National Trust (BNT) researchers took part in the expedition and recalled what they observed and learned in the Living Oceans Foundation's short film Mission Bahamas, filmed on the M/Y Golden Shadow.
The M/Y Golden Shadow is a 67-meter (220 ft) logistical support vessel that carries a Cessna Caravan Amphibious aircraft.
The M/Y Golden Shadow is owned by the Living Oceans Foundation, which is dedicated to the conservation and restoration of living oceans and pledges to champion their preservation through research, education and a commitment to Science Without Borders.