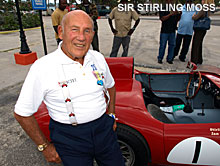 The Bahamas Speed Week Revival got off to a roaring start yesterday morning on Arawak Cay, Nassau. Famed Formula One racing car driver Sir Stirling Moss led the way, as a diverse pack of three dozen iconic race cars blasted their way around Arawak Cay for three ceremonial laps to mark the opening of the event.
From legendary Detroit models, such as the 1965 Corvette Stingray and 1992 Dodge Viper V10, to elegant classics such as the legendary Porsche 911 and the gorgeous, handmade 1954 Jaguar XK140 Roadster, there were plenty of beautiful racing machines to admire.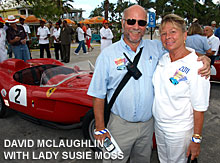 Speed Week Revival is a resurrection of the week-long racing events that were held in Nassau annually during the 1950s and '60s when internationally acclaimed racers would compete in races and events in the Bahamian capital.
It is hoped that this year's gala will help kick start the return of an annual Speed Week.
In addition to special guest Sir Stirling, also in attendance were Governor General Sir Arthur Foulkes and his wife, Lady Joan Eleanor Foulkes. Officiating were Jimmy Lowe, president of Speed Week Revival and Minister of Tourism and Aviation Vincent Vanderpool-Wallace.
hcutting@dupuch.com