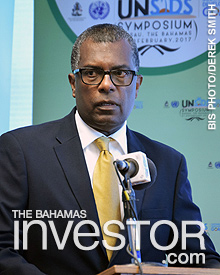 Pictured: Minister of Foreign Affairs and Immigration Fred Mitchell announces that The Bahamas will be the host country for the United Nations Small Island Developing States Symposium during a press conference this week. The three-day event will be held at Melia Nassau Beach Resort on Cable Beach, February 21-23. (BIS Photos/Derek Smith)
Conference season rumbled on through February, with The Bahamas playing host to one of the biggest international business and economic conferences.
Minister of State for Investments Khaalis Rolle welcomed local and international participants, presenters, organisers and stakeholders, to the United Nations Small Island Developing States (SIDS) Symposium towards the end of last month.
Prime Minister Perry Christie gave the opening address highlighting the need for collaboration on climate change and sustainable development for small island states.
"Climate change is a pressing issue and we can no longer refuse to take action to adapt to and militate against the effects of climate change. We must better integrate climate change adaptation and mitigation into all planning, educational and budgetary processes," he said.
The discussions at the symposium centred around the theme of "Implementing the 2030 Sustainable Development Agenda and the SAMOA Pathway in Small Island Developing States: Equipping public institutions and mobilizing partnerships."
The Ministry of Tourism was also busy during February, with MOT managers, as well as hoteliers and representatives from various promotion boards, attending the New York Times and Boston Globe Travel Shows.
In both instances, teams representing The Bahamas welcomed travel agents, media and consumers to their booth to provide them with information on The Bahamas as a visitor destination to escape the harsh winter weather.
In other tourism news, the One&Only Ocean Club re-opened its doors after a $12-million capital development project. The resort was also recently named on Travel & Leisure's coveted list of best hotels in the world.
As for Baha Mar, the mega-resort on Cable Beach is still on schedule for its April 2017 soft opening, according to developers.
"The pristine beach, golf course, casino, shops, pools and bars will all be ready to go for the opening," said the resort's president Graeme Davis. "We are working with other companies and resorts to make the overall offering a success for The Bahamas."
For these stories and more visit
thebahamasinvestor.com
or click on the links below.
Subscribe to the RSS service
to
feed
posts directly to your RSS reader or mail application. Also, now
find
us on
facebook
or
follow
us on
twitter
.
The Bahamas Investor - February News & Press