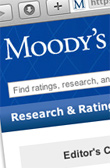 August saw the much anticipated release of Moody's Investor Services' rating of The Bahamas economic prospects. The agency confirmed The Bahamas' Baa3 credit rating and left unchanged most of the risk ceilings for The Bahamas' long-term and short-term financial obligations.
In justifying its decision, Moody's highlighted the positive prospects of the government's fiscal consolidation programme for debt stabilization; consistency in The Bahamas' credit profile with other Baa3 rated-peers; and the limited liquidity pressures, despite higher borrowing requirements.
However, Moody's move to change the outlook from stable to negative reflects its assumptions about the potential downside risks to the implementation of the fiscal consolidation process posed by a less favourable growth outcome and any climate-related shocks.
In a response released August 25, the Ministry of Finance said:
"Moody's decision, while not surprising, is an endorsement of the government's plans to deliver on its fiscal consolidation initiatives and eliminate any perceived risks to investor confidence."
"As emphasized in the 2017/18 Budget Communication, fiscal stability and economic growth are top priorities for the government, and Moody's has been advised of the government's willingness to pursue credit-positive fiscal initiatives and growth-promoting policies to extricate the Bahamian economy out of the low growth cycle."
In other news, the government said it will inject almost $20 million into the capital development of the country's constituencies over the next five years through its Constituency Capital Grant Programme.
The Constituency Capital Grant Bill, 2017 came into force July 1 and provides for the allocation of constituency capital grants of the amount of $100,000 per annum for each of the 39 constituencies throughout The Bahamas to facilitate development and for connected purposes.
That amounts to $3.9 million annually, and balloons to $19.5 million over a five-year period.
In tourism news, the Ministry of Tourism announced that it has engaged global communications firm Weber Shandwick to provide communications support in the key markets of the US and Canada, as well as project work in the UK and Latin America. The Ministry is looking to drive up onshore spend by cruise line passengers by $20 per person through an increased range of services and improved infrastructure.
For these stories and more visit
thebahamasinvestor.com
or click on the links below.
Subscribe to the RSS service
to
feed
posts directly to your RSS reader or mail application. Also, now
find
us on
facebook
or
follow
us on
twitter
.
The Bahamas Investor - August News & Press