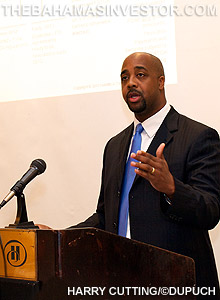 An event held on Wednesday this week at the Colonial Hilton in downtown Nassau detailed how financial institutions can comply with the newly created Financial Account Tax Compliance Act (FATCA) scheduled to become US law January 1, 2013.
The Bahamas Institute of Financial Services (BIFS) sponsored the seminar.
FATCA is designed to prevent the abuse or avoidance of taxation on income earned by US persons, especially via offshore accounts in financial centres such as The Bahamas.
The law requires US taxpayers to report financial assets held outside the country to the IRS. Foreign financial institutions (FFIs) are required to enter into disclosure agreements with the US Treasury. Non-financial foreign entities (NFFIs) are also compelled to report client information on "substantial" US persons under this law.