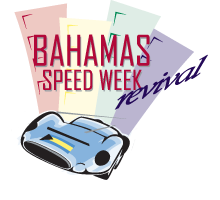 Three years after the first revival of Bahamas Speed Week, the government announced plans to build a major motorsports complex to be completed by 2016.
Minister of Youth, Sports and Culture Dr Daniel Johnson used the first ever meeting of the FIA (Federation Internationale de l'Automobile) in The Bahamas this week as a platform to make the announcement of the $9 million complex that will serve as a multipurpose center, providing a facility for safe driving training for police, security and ambulance operators, recreational and racing cycling, recreational and competitive cycling, motorcycle sports, karting, even musical concerts and other events that create local and visitor attractions and opportunities.

Five members of the FIA, including the organization's president, Jean Todt, vice presidents Jorge Tomasi Crisci and Hugo Mesan, and Americas president Jose Abed, met with dignitaries including Deputy Prime Minister Philip Davis, Minister of Education Jerome Fitzgerald and Sports Minister Johnson during a one-day visit August 12.
Early morning meetings were followed by site visits and a tour of Graycliff's new Bahamas Historic Museum on West Hill Street, which has a collection of racing memorabilia.
Later in the day, the delegation paid a courtesy call on Prime Minister Perry Christie and other members of Cabinet at the Cabinet office.
"The motorsports complex is an investment in the economy and in the Bahamian people. This is an investment that will continue to pay for itself. Stimulating the domestic economy is what sports tourism does. It is proving a great boost to the local economy," said Johnson, citing the LPGA tour, which, he said, has signed on for another five years.
The Battle 4 Atlantis basketball tourney set for November is already sold out, he added, and is expected to fill 15,000 rooms at Atlantis.
Johnson noted The Bahamas is partnering with the best brands in the world to foster strong sports tourism.
Johnson said two locations for the motorsports complex were being considered and while construction will be government funded, the facility would have to sustain itself financially through private events, usage and an authority type of management.
Both Johnson and the FIA/NACAM Task Force director, president of Bahamas Motor Sports Association, and chairman of Bahamas Speed Week Revival David McLaughlin said the venue must be of a high enough standard to host signature events and could possibly be the site of the first successful Formula E electric and emission free vehicle racing.
"Please note that the Minister has announced that this will be the circuit of The Bahamas, not just a track but a circuit," said McLaughlin. "That is a huge deal. We welcome the news and believe that such a complex will be a sustainable and cost effective investment that will bring real auto racing back to The Bahamas."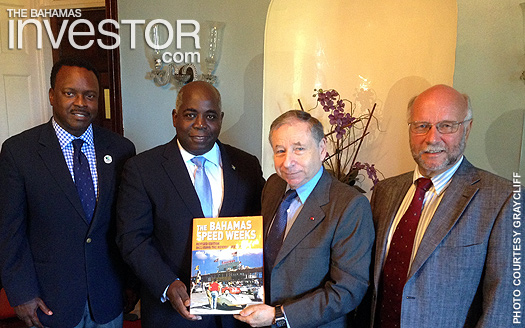 Pictured: (from left) Dr Daniel Johnson, Minister of Youth, Sports & Culture; Philip Davis, Deputy Prime Minister and Minister of Works and Urban Development; Jean Todt, president FIA, the worldwide governing body of motorsports; and David McLaughlin, race event organizer, chairman of Bahamas Speed Week Revival and the first FIA director appointed to represent the Caribbean and Bahamas. (Photo courtesy of Graycliff)