San Juan, Puerto Rico–Although the region's tourism market is expected to grow by at least two per cent this year, lenders' outlooks for the Caribbean and Central America are mixed, with two thirds of the institutions surveyed not expecting any meaningful growth to occur before 2014.

That was the message coming from panelists at the first general session of the 16th annual Caribbean Hotel and Tourism Investment Conference (CHTIC), underway in San Juan, Puerto Rico. The two-day conference wraps up Thursday.
With Caribbean economies significantly driven by tourism and seven of the world's 10 most tourism-dependent countries located in the region, panelist discussed the challenges, potential and opportunities in the region.
Tourism represents five per cent of the world's gross domestic product (GDP) directly and nine per cent indirectly. This year the size of the international tourism market is expected to reach one billion. Six to seven per cent of the world's employment is tourism-related representing one in every 12 jobs.
International tourism arrivals have grown from 25 million in 1950 to 980 million in 2011. Approximately, $2.6 billion is spent in international tourism every day.
The Caribbean captures two per cent of the world's tourism wealth, which leaves a lot of room for improvement, according to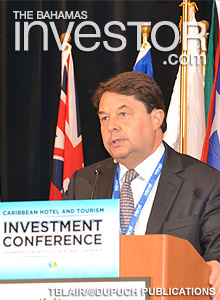 Carlos Vogeler, (left) regional director for the Americas, World Tourism Organization (UNWTO).
Seven destinations in the region (Dominican Republic, Puerto Rico, Cuba, Jamaica, The Bahamas, Aruba and Barbados) account for 75 per cent of air arrivals.
Vogeler said early estimates suggest global tourism will grow between three to four per cent, even in the face of such challenges as stalled economies, rising oil prices, increased taxation, record high unemployment rates and geopolitical upheavals.
According to long-term forecasts conducted by UNWTO, global growth in international tourism will continue, but at a much more moderate rate in comparison to its 4.2 per cent growth per annum during 1980-2010.
Global tourism is expected to grow some 3.3 per cent per annum to reach 3.3 billion arrivals by 2030.
The Caribbean, however, is projected to grow beneath that average, with a two per cent annual rate of increase.
Although tourism is vulnerable to crisis, Vogeler continued, it is also a very resilient sector.
"International arrivals in emerging economies are expected to continue growing at double the pace of advanced economies. The emerging economies of Asia, Latin America, the Caribbean, Central and Eastern Europe, the Eastern Mediterranean and the Middle East and Africa will gain an average of 30 million arrivals per year compared to the 14 million of traditional destinations," said Vogeler. "So, there is going to clearly be a shift. By 2015 emerging economies will receive more international tourists arrivals than advanced economies. This is going to generate increased competition with obvious demands for product innovation."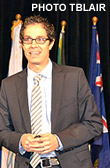 According to Adam Sacks (right), president of Tourism Economics, growth lies in the Latin American markets and the US.
Sacks' company provides quantitatively based consulting to the tourism sector and has advised hotels, aircraft manufacturers, theme parks and destinations on market opportunities.
Sacks placed the region's tourism sector growth "in the range of three per cent" over the next few years. "We think we are going to get back to where we were in the '90s in that 3.6/3.7 per cent range," he said.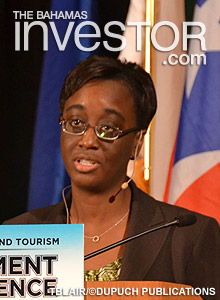 According to Charlene Lewis (left), advisory associate director for KPMG corporate finance in The Bahamas, the majority of lenders agree that there is some hope for this year, with the industry as a whole expecting to benefit from positive, but limited, growth. Her presentation was based on the KPMG's eighth annual Caribbean Region Financing Survey. KPMG provides auditing, tax and advisory services.
The survey shows that lenders' outlooks are cautiously optimistic, as reflected in their lending parameters. The hospitality projects lenders have green lit within the past year were primarily renovation and refurbishment projects for existing clients whose properties are geared towards leisure and business travellers. There is, however, a portion of the lending market that has declined to lend to any projects.
Describing lenders' outlooks for the Caribbean and Central America tourism over the next year on a scale of one (bearish) to 10 (bullish) the Caribbean Financier Confidence Barometer rating came in at 5.18, consistent with the findings of the past two years.
"Overall the consensus was that growth was going to be pretty slow," added Lewis. "Participants in the survey don't expect to see meaningful growth return to the industry until 2014."
tblair@dupuch.com