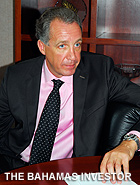 Bahamas Telecommunications Company (BTC) is on track to save over $10 million in operating costs and expects to meet its projected income estimates by the end of the financial year, according to chief executive officer Geoff Houston (pictured).
"We have achieved some significant spend reductions," said the CEO as he outlined the company's plan to restructure the business and pass on savings to customers. "We expect that BTC will make a profit this year. Our parent company is very pleased with our performance to date."
Since Cable & Wireless Communications Plc took ownership of the company in April, BTC has seen a seven per cent increase in traffic on their mobile network, a reduction in dropped calls and positive customer feedback.

Houston said promotions and the introduction of a single flat rate when calling island to island had been "well received by customers."
"We have had very good feedback from customers and it has been very cooperative and very helpful," he added.
The CEO also pledged to lower rates in the coming months, saying: "We have a commitment to review and improve on pricing where we can."
Through better customer service, a new mobile network and more efficient broadband, the company is hoping to remain competitive once the market becomes fully liberalized in 2014. Houston said BTC expects to retain "a sizeable chunk" of its market share when competitors enter the market.
cboal@dupuch.com