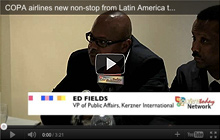 The non-stop Copa Airlines service between Panama City and Nassau has brought a flood of Latin American visitors to The Bahamas, according to new figures from the Ministry of Tourism and Aviation (MOTA).
MOTA statistics show arrivals from the region grew by 40 per cent between May and July this year when compared with the same period in 2010, and tourism officials say the rise is largely due to the Copa service, which began weekly flights between Nassau and Panama in June 2011.
"From the beginning we knew that Copa had positioned its flights into Nassau in such a way that it allowed for connections from throughout South and Central America," said MOTA Director General David Johnson.
According to MOTA, 33 per cent of Copa's flyers in the May to June period were from Colombia, 13 per cent from Argentina, eight per cent from Panama and seven per cent from Brazil.

MOTA is hoping to increase these numbers further with a new campaign, launched last month. The campaign, spearheaded by Miami-based marketing and communications firm Grupo bt USA, hopes to increase the volume of visitors by at least 50 per cent through increased marketing.
The campaign carries the slogan Bahamas, No lo has visto todo, literally translated as: The Bahamas, you haven't seen everything.
Announcing the launch of the campaign, Grupo chief executive officer Carlos Ulibarri said: "We are very excited with this project because we can promote The Bahamas as a destination where tourists can experience out of the ordinary, unexpected sensations on each new visit."
MOTA estimates that in its first year of operation the Copa flights will bring more than 14,500 visitors to The Bahamas and create over $7 million in hotel room revenues. In total, it is expected to plough more than $17 million into the country's economy.
For the official launch of the Copa Airline route, watch the video below:
cboal@dupuch.com